The unexpected covid year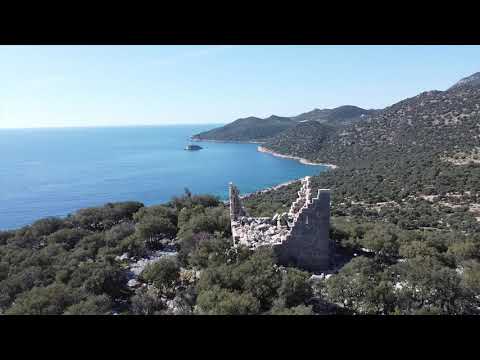 I will try to keep this one short. I guess I want to mark the time during my last night in Kas; a beautiful town by the Mediterranean sea in southern Turkey. The date is 25th April 2021. I left Canada and came to Turkey in August 2020, roughly 4.5 years after I left the homeland for fame and fortune. It was the the first covid summer and since I left Canada I did and learned bunch of new things which wouldn't have happened if things were normal. The never ending summer after spending 5 months in isolation: worse year becoming one of the best. This is a note to the future. Not for work directly, but for life.
The Covid Winter is Over
FoMO or Indecisiveness creates stress. It was funny, when I woke up one morning around March 2020, during the early lock-down days and I felt so happy. There was nothing to miss, and so I was happy being inside spending the time as I pleased. I spent bunch of time with plants, cooked and started learning new things like playing Trompet. These were the funny times when we thought the quarantine would be over soon and I was busy with converting full time. Now a year later things are still as bad as before if not worse.
Breath and look for the next thing I don't know when it was; when I got the idea of applying for permenant residency (PR) in Ontario and leave/sublet my place in MTL. But I guess it was important to me and I wasn't so overwhelmed with the Covid situation to think about such things. So I looked for IELTS exam and most of them were cancelled due to the Covid situation. Earliest exam was in Calgary, Alberta; so I flew there. People were surprised I was flying during the covid. Honestly given that everyone had their masks all the time; it was probably safer than many other places in the city. Bars were open in Alberta, so I enjoyed my first outdoor beer after the long winter and drove to Banff and Jasper. Best time to visit the mountains and few tourists to be found. I think many people still believe flying is very risky in terms of Covid. Is that the case? or I guess it is 'safe' to believe so.
Maybe keep your ties light I didn't have family in Montreal, or a house that I bought or expensive furnitures. So it was relatively easy to leave. Honestly, I had a nice setup in Montreal and I could have stayed there and things would have been fine and a year would end in a blink. I find it hard to imagine how that would be; feels boring. Would I gave up staying and leave after a while anyway? Maybe this was my destiny. This is certain: what I did was possible because I didn't have certain ties with Montreal, yet. And this is good and bad news at the same time: I picked the good. It would have been sad to live a life dreaming an alternative so badly without seeing the beauty and the good and the opportunity in it. Maybe it is possible to do both; having ties and thinking twice before having them so that you are ready to drop them whenever needed.
The Alternative Covid Year
Miss and enjoy So mid-august I took off and arrived Istanbul with many plans. My return ticket was for November I think; which then got postponed to May. Istanbul have many cats and I was innocently smiling at them when running and preparing for the hike up Mt. Ararat. Climbing the highest point in Turkey was something I planned for a while and I executed it with my brother. Such a nice trip it was and an easy one in hindsight to do/organize. Here, in Turkey, I know the people, possibilities and limits. I missed it so badly, the food, the land, the sea, the language, dear friends and family. Those fish, too. Fish on grill. Again, nothing too wrong about being far for a while. You miss and it makes you happy and smile when you are back. Maybe you have to leave some times to miss again.
Dreams I accumulated and consumed Doing and arranging things were much easier at home. Maybe this is climate; Mediterranean. I did many things that I dreamed for a while. Learning riding horses, scuba diving, swimming almost everyday in the sea, riding my motorbike daily, learning sailing, climbing highlands. I did all of those things in 6 months maybe. Crazy when I think about it. So many years I hustled in America and it feels like I didn't do half of what I did this year. Now I know I can do more in life as long as I keep accumulating dreams and willing to sail towards the unknown.
Discovering places I still have a home in Turkey and after this year I know the land better. I know Cunda and Ayvalik better and its sad history. For example, which small batch olive oil producer I prefer in Ayvalik. I know oil is pressed around November and how it tastes right after harvest. I am a sailor. I belong to the sea as much as I belong to the mountains. Sad that I discovered the underwater world in my late 20s. I know the wonderful Bonjuk Bay community; a place to come back regularly. I know various fish types now: Akya, Levrek, Cupra, Lufer, Kalkan, Barbun, Kolyoz, Uskumru, Tekir. I know I can carry a 20kg back-pack upto Kilimanjaro. And the legend: Land Crusier. Knowing the animal kingdom on the land and in the sea better. Not scared of the sea anymore, can spend hours in it. I know I can dance for 12 hours non-stop and I desire that. I know the lemon tree has thorns and the yellow lemons are up on trees from Jan to May. Malta Plum is ready in April and figs are due October. Chestnuts are ready in December. 1000 meters high hills are 10min away from Kas and there are so may ancient cities around. I know why Kayakoy is special and where to stay there when I am back. I know there are 2 summers for me in Turkey one in October/November and the other in March/April. O and there is Tanzania.
When everyone is staying maybe it is time to go Places are beautiful and unique and we, people, ruin them most of the time. It was so special to be in Tanzania during the covid. So special to be one of the first to get into the Ngorongoro crater in early morning and so special to climb to Kilimanjaro seeing maybe 5 other people in a day. Being able to reserve special camp sites in Serengeti at the gate. And working from Zanzibar Utupoa. Crazy times. I wished I had more time to discover during the Covid year. I skipped Egypt and many others possibly. I worked instead. Maybe I shouldn't have done that. I should remember this. I need to stop sometimes and take the opportunity. I don't know when the next time would be; I don't know how long this life would last either.
And the cycle repeats? I think I got used to this. beautiful sea, the beautiful sun and beautiful mountains. Delicious fish and fresh tomato. I got used to being in Kas but yet it feels difficult to leave. So many memories and only few of them are recorded. More to be missed and forgotten.
I got my permanent residency in Canada few weeks ago. The very thing that I pushed during the first summer of Covid and now It is time to go back in order to claim it. 3*365 days needs to be spent in Canada to become a citizen; which would make me a first world citizen; less borders and more opportunities. O, yes, the life is unjust and some of us needs to do things like that I guess to prove things. But only we can do sth about it, no-one would really care. I don't know whether I would fulfill this requirement. Maybe I would go Japan, or Africa or Netherlands. Australia would be interesting, too. I wonder how bad I will miss the Covid year when I am back in Canada. I am sure summer will help; but winter is ahead and the cycle is being cycle.
Covid was unexpected and made me realize a new path, a new circle. Now I know better and excited to discover more.